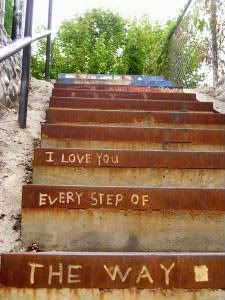 Every journey starts with a small step….
As does love.
Sometimes many steps later you need to start all over again. Small steps towards regaining the love you've lost.
Is it worth it?
Starting the steps, with new shoes and all?

Depends.
Where did you trip? At what point of your relationship did you start stumbling that you forgot to walk forward. You missed one step, then two, then you completely forgot where you were going.
Are we meant to be monogamous?
What a tricky question.
What do you think? Are we meant to be with one person for the rest of our lives?
Sometimes you can trip, but if you clean your shoes and keep going, is that ok? Will your shoes have signs of wear and tear?
When do you change shoes? Maybe it is best to not fix the shoes you have and keep going because, alterations can be dangerous. Mending is not always the best way to keep things the same.
I've been noticing a trend in the tripping department.
.......this is where it begins.