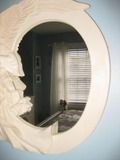 One event can change everything.
Having the diabetes scare helped me face my fear of change. I had to change less things that I thought, but in my mind the change was going to be huge that is why I could not bear it before. Our mind plays an awful lot of tricks on us. The last couple of years felt like I've been learning about life and people. We all make at least one or two bad choices a year and it seems that, at the moment, life as we know it is over. Maybe it is, but we get over it, move on and start fresh. That's the cool thing about being an individual; you can transform yourself and change whenever you feel like it. I neglected to pay attention to that; I was too busy worrying about everyone else, I took an extended leave of absence on my individuality.
What I realized is that I don't need to do 10 things at once because I never finish any of them or it takes me too long to finish them. I've taught myself to STOP, REWIND, SLOW DOWN, PICK ONE THING and go with it. I'm getting more done because I've slowed down the process. I focus on one thing at a time and I get it done so much better. Be it cooking, working, cleaning, the kids, the husband, I've stopped trying to do everything at once. I'm trying to do less and making it count.
Same goes with life in general. Sometimes it feels like days just come, go and you have nothing to show for it. I'm turning 41 and it dawned on me that I really should not let days come and go. I'm not saying I can control time; I'll just control what I do with the time I have.
Next time you are doing 3 things at once and you get stressed out and get all overwhelmed. STOP. BREATHE. CLOSE YOUR EYES AND RELAX (unless one of those things is driving). Take a deeeeeep breath and pick ONE of the three things and finish it. You will feel so much better and I promise you, it will all get done!
Stop and breathe often, you might see something you never saw before and it may make you smile.
Peace out my loves (specially my beautiful stalker who is travelling today)